Genesis Energy (GENESIS) is honoured to have been recognised as an INSPIRATIONAL COMPANY by the WORLD CONFEDERATION OF BUSINESSES (WORDLCOB) in a ceremony that was held in Houston, Texas, August 2021.
GENESIS came top from a list of several nominees across the globe. For this award, the evaluation committee adheres to the WORLDCOB business excellence criteria, upon which nominated companies are required to score more than 90 points (100-point scale) to make it through to the finals.
"For GENESIS to be selected among global businesses that are making meaningful contributions to the economies that they operate in; it is truly a privilege to receive this recognition," says GENESIS Deputy Vice-President: Communications & Marketing, Babalwa Bungane.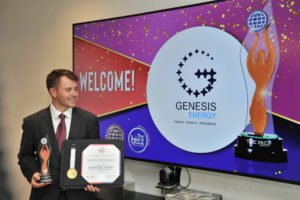 The organisers have over the years successfully brought together the winners under one roof to celebrate their achievements. However, due to the COVID-19 pandemic; the organisers have had to be creative in hosting such a big event by introducing the hybrid award ceremony in order to continue celebrating business excellence.
"We feel proud to have the company Genesis Energy as a member of WORLDCOB and we encourage you to keep on the road of excellence, as I always said, it is a challenge to get to the peak of success but maintaining there is an even bigger challenge," said WOLRDCOB Chief Executive Officer, Jesus J. Moran.
About WORLDCOB:
Founded in 2004 in Houston, Texas, the World Confederation of Businesses (WORLDCOB) was founded with the primary mission of promoting business development worldwide, recognising and boosting the growth of leading businesses and businesspeople in every country through the special tools and services offered to their members. Today, the WORLDCOB has over 3,500 proud members, representing more than 130 countries across the globe.